Carmen is SUPER Pissed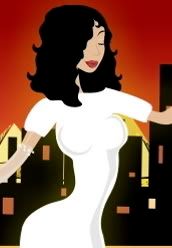 Carmen is SUPER pissed regarding comments left on her page and she's got some words for the voices of ignorance in a new post. Its a good rant.
Here's an excerpt
----------------
Here's one of the things I discerned from the comments: we "Muslims" need to watch ourselves. We need to make sure we don't agitate the poor, scared average American. Watch what you wear, watch how you act, watch what you say. What a load of f*%king bull$hit. Are you Americans so f#*king stupid that you can't distinguish between a "threat" and (for lack of a better word) normality??? What a bunch of backward folk then!
----------------
Here's is
the whole article
and
the context of the controversy.
To get a full sense of the issue at hand you'll need to read the comments.
As far as my own opinion on the matter, I will unleash them in the comments that will inevitably develop from this post.